OUR PRODUCTS
PACKAGES
MEETINGS
LIGHTING
VISUAL
KARAOKE RENTAL
ACCESSORIES
MIC SECTION
OTHER RENTALS
Karaoke Idol
Karaoke Portable System for rental with built in speaker (just plug into tv with 300 songs and book
KARAOKE RENTAL
We offer Karaoke, Jukebox, PA, and DJ equipment Rentals. All easy-to-use professional sound systems. Pick up or we can deliver to your PARTY, leaving you no hassle on your event day!
Our commercial-grade karaoke units are designed to be all-in-one entertainment systems. You can sing, make announcements and listen to your favorite music – all through our high quality sound system. With the largest karaoke song libraries in the Bay Area, we feature music spanning from the '40s up to the current hits of today. Our songbooks, pencils and specialized request slips add the perfect touch, providing your guests with the complete "karaoke club experience". Ask about our karaoke jockeys – these showmen will keep your guests on center stage! karaoke pick up options only available in the San Francisco Bay Area. Click here for karaoke pictures and pricing.
Karaoke Machine Rentals we have been providing Northern California with the highest quality Karaoke and DJ set ups with & without DJs & VJs for over 15 years.
Rent karaoke for your party! Get your karaoke rental system for the lowest price in the bay area we will beat anyones price.
Other searches: Karaoke Singers wanted, American Idol, KJ Karaoke Song lists, Karaoke Rental,. Rent Karaoke Rental,Karaoke System,Karaoke Party,Karaoke Party Rental Pack.
OUR PRODUCT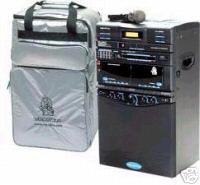 Karaoke Idol
Karaoke Portable System for rental with built in speaker (just plug into tv with 300 songs and book
$175 Per Day or Weekend
SF Bay Area audio visual equipment rentals
A local SF Bay Area audio video equipment rental company. Affordable prices and friendly service. SF Bay area, audio video rentals, audio visual rentals, AV rentals, audio visual services, lcd projector rentals, sound system rentals, audio equipment rentals, video equipment rentals, video camera rentals, camcorder rentals, meeting equipment rentals
We can help you over the phone, in person, or via email. Call our toll free number (1-800-568-0443) for the fastest answers to your questions. If you prefer, web inquiry form is available for online inquiries. An Audio Visual Sound & Light equipment rental specialist will get back to you as soon as possible.
If you want to stop by an office, we would be happy to meet with you in person. To insure the right gear is available when you arrive, please give us a call prior to stopping by.